"I've always had a taste for retro instruments"
"Every single member of our band can find our (very eclectic) heroes on the Rotosound roster"
2020 was a year like no other for Kim Logan. Until then, the Florida-born artist had been covering the globe after spending several years in the Nashville scene collaborating with the team behind Jack White and Third Man Records and playing both opening slots and as a touring member of the band Low Cut Connie. With her second long-player released at the start of 2020, Logan was set to tour with her band until the world came to a halt with the spread of COVID-19.
With time on her hands, Kim spent some time guitar shopping and found a 50-year old Teisco which needed some new strings. A friend suggested fitting some Top Tape strings, which kicked off Kim's relationship with Rotosound.
We caught up with Kim who spoke about the record, her band, The Silhouettes, and what she's working on next…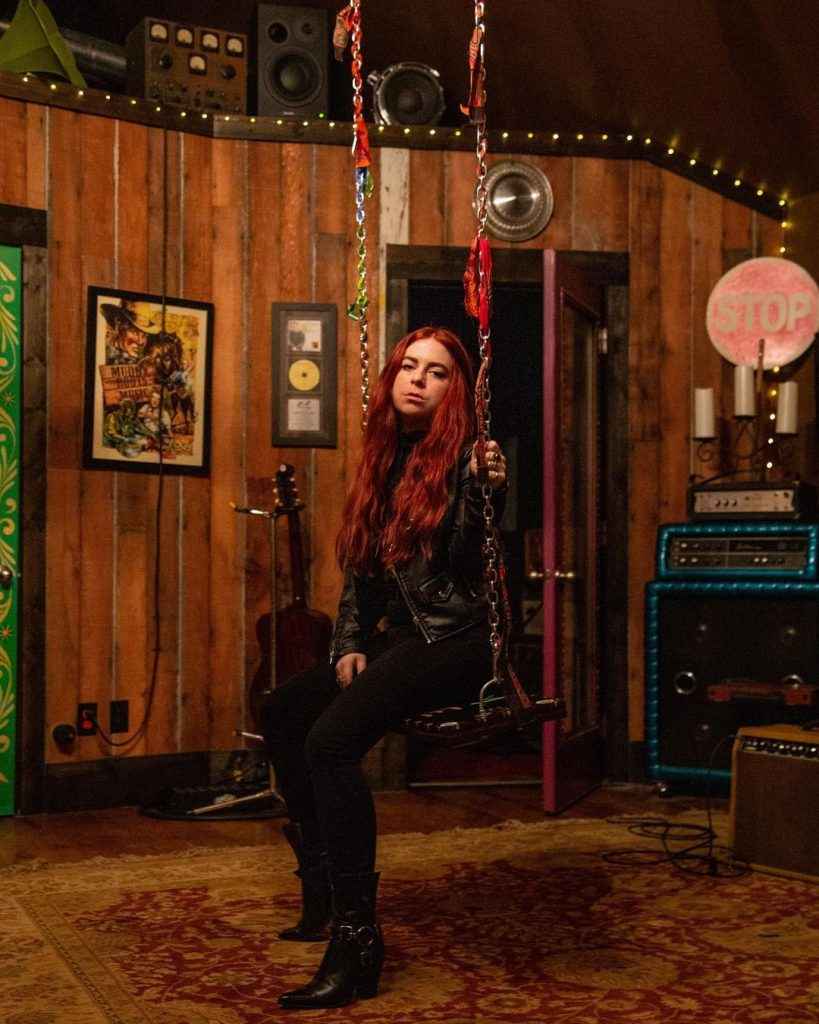 Getting the band together
My guitar player Martin Zissel and I started the Silhouettes in 2018… the rest of the band and I actually met and played our first show together on the very same night! It was truly a magical meeting of the kindred spirits, and we toured for the next 19 months straight, before releasing my second full-length LP "Shadow Work" in 2020, right before the pandemic halted live music. We made the album between Folkestone, Glasgow, and Paris, and released it on 12" vinyl records, which you can get on our Bandcamp page!
We also have Jules Darmon, the wünderkind son of some incredible French actors, on the drums in the Silhouettes. On bass/vocals we have Myriam Stamoulis, and on bass/vocals/synth we have Alexis Collard. On "Shadow Work" we were joined by the incredible Parisian players Victor Méchanick and Tom Liam Bourcier on organ/keys. After I wrote everything and brought the bare bones of the songs to the band, we really all produced the album together… with help from our live and studio engineer Duncan McLaren, whom we met on tour in Scotland and just sort of took along for the ride ever since.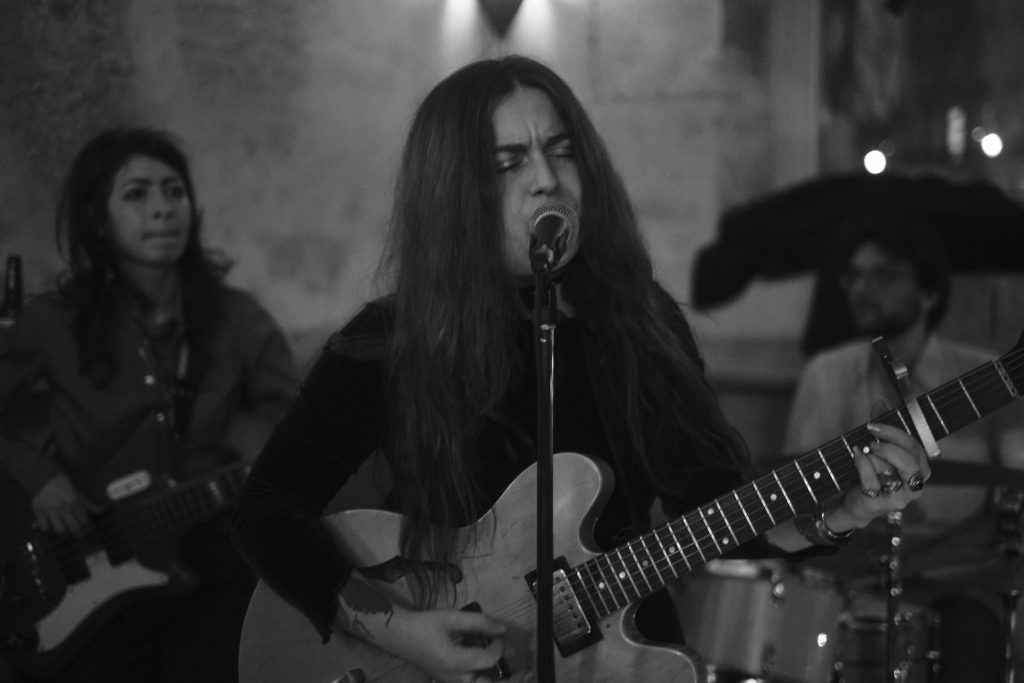 Old school recording
As far as gear goes on "Shadow Work," we were lucky enough to be using a lot of pretty incredible old stuff… including a gorgeous vintage custom built Ludwig drum kit, Martin's classic '70s Fender setup with a Greco Les Paul Custom copy, and Myriam's Eastwood A-line bass run through a vintage Ampeg SVT rig. I've always had a taste for retro instruments, which probably came from growing up around my dad's '73 blonde Strat, '60s Les Paul, and gut-string parlour guitars. I'm also endorsed by Epiphone and Silvertone guitars!
Most recently, after combing ads all over the UK, I was able to snag a probably 50-year old Teisco "Kay" guitar, secondhand in Edinburgh, in magnificent condition. It's such a funny little Taiwanese toy, junior sized which is perfect for me, with weird pickups and a really pretty cherry finish. I'm looking forward to messing around with it through a Rotosound pedal or two!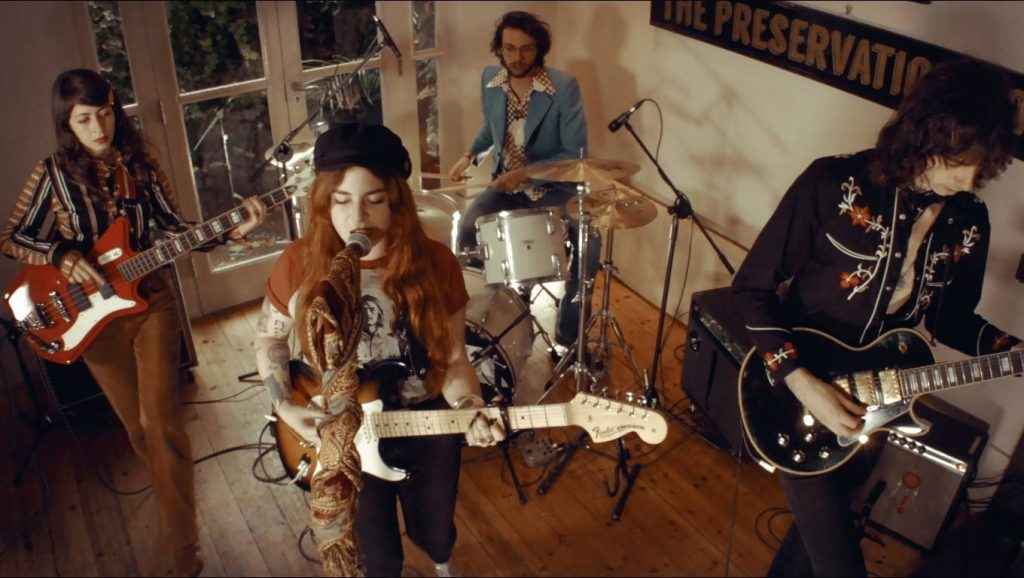 Time to kill
Like probably any other touring music professional reading this, I have been faced with more "free" time in the last year than I had been in the last 10 combined, so my creative approach is honestly just experimental right now… which is not something I guess I had ever felt like I had the space to be before. I've published a piece of my poetry in an American literary journal, in a first attempt to figure out how I want to release other poetry work that I've written as a possible chapbook. I'm quite a slow writer, and like to really explore every tangible aspect of an idea or album or song before I move on to the next project… I don't know, maybe it's "method" music-making… but I always learn something by diving in deep, and it gives me creative closure every time I move on from a release.
I only just now feel like I am closing the chapter of my output that was "Shadow Work," and I'm getting super excited to construct the next one from scratch. Trying to focus on lyrical expression that goes deeper than relationship issues… songs about politics and religion and the human condition are just so much more interesting to me these days. So many social dialogues need to be opened or maintained right now, and I think musicians have a duty to be part of that… if not leading some of that.
Looking forward
We have like 7 songs in the pipeline for my third LP, and we're headed to the countryside in Normandie to make some demos in a few weeks… it feels like we're waking up from the long pause and it feels good. The album is going to be made over the course of my Saturn return, and it's a lot about metaphysics and social issues and the end of the world… but in a way that we hope makes you want to dance, if just to try to deal with it all.
We just signed on with Rotosound a few weeks ago, and we're soooo stoked to be part of the family. From Jimi Hendrix to Oasis to PJ Harvey, from Yes to Motörhead to T. Rex, … every single member of our band can find our (very eclectic) heroes on the Rotosound roster.
Look out for some videos of me and the Silhouettes playing with our new Rotosound strings and pedals soon, when we're all reunited in France!
Check out the latest from Kim Logan by following her on Instagram at @kimloganmusic. Find out who else is playing Rotosound strings by visiting our Players page.