To get the tone from classic U2 records… look no further than Rotosound.
…keep your playing simple and melodic, letting the echo's bounce off one another and you will find your guitar will sound like U2's The Edge!
A Little Edge History
David Howell Evans sure picked an interesting name to go by as a rock guitarist when he chose The Edge. His name and guitar tone are all a product of that '80s era of going big in every aspect of art and music. While U2 was not specifically a hair metal or arena rock group, at that time most bands were going for a vast and expansive sound. 
The '80s were also a period where pedals and effects became more available to musicians outside a studio setting. The Edge bought a Gibson Explorer, an AC30 Vox Amp, and an Electro-Harmonix Memory Man delay pedal which all became the core of his guitar tone and the vibe of U2. Delay pedals can make it difficult to play a variety of notes or thick guitar chords and that helped shape his playing style.
The Edge is not known as a flashy or fast guitar player because it is not possible to be flashy with so much echo! He is one of those guitarists who have created a new instrument with a guitar and effects mixed. The use of delay, echo, and reverb helped give U2 an instantly recognisable sound. When playing guitar like The Edge, you will take a minimalist approach and let the technology build the tone.
Guitars, Pedals and Amps to Sound Like The Edge
There are two approaches to getting the technology necessary, if you have a massive budget you can buy the specific pedals mentioned. However not everyone has the means to buy a Gibson Explorer and a vintage Vox! For those on a lower budget you can use other pedals and gear that will still give you a similar sound. 
Guitar
Of course he also uses other guitars besides the Gibson Explorer, he has recorded albums with a Fender Strat and even has his own signature model. These will be the best two to pick if possible, but other modern electrics shouldn't be a terrible start. The Edge's sound is more in the delay and intervals than his guitar.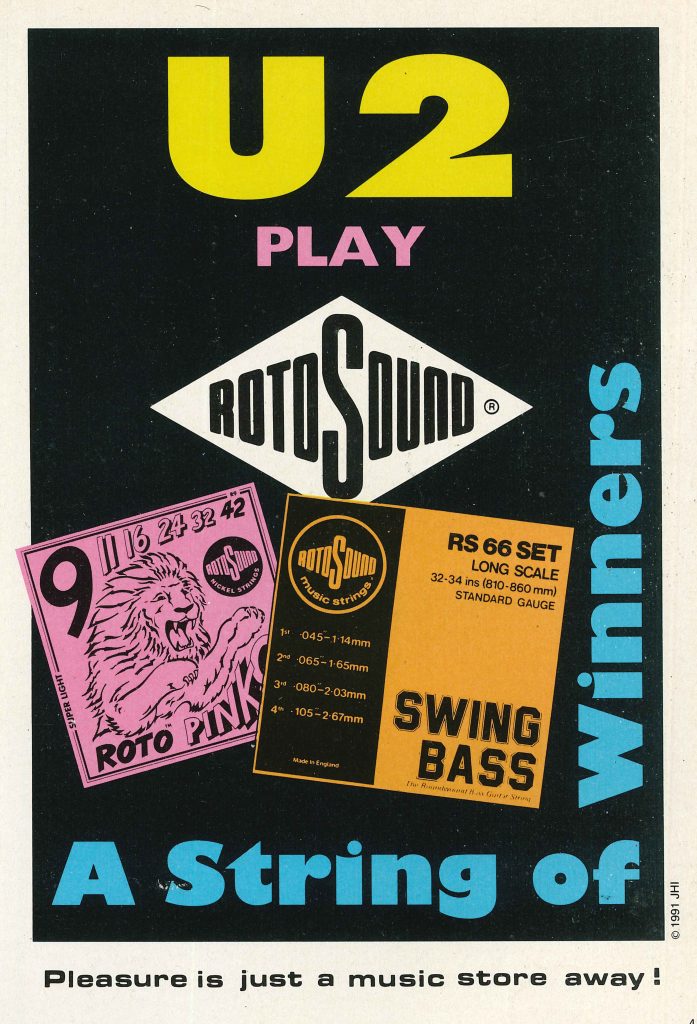 The Edge's Guitar Strings
If you're wondering, "what strings does The Edge use?", and want to get the tone from classic U2 records, then look no further than Rotosound. The Edge has used a number of different strings manufactured by Rotosound since the early days of the band including their nickel wound Rotos electric guitar strings and Jumbo King acoustic strings.
The Edge's string gauge of choice was either 9-42 Roto Pinks, 10-46 Roto Yellows, or the hybrid gauge of 9-46 Roto Oranges. Most guitars will come fitted with strings of this gauge from the factory, apart from the hybrid gauge, which was most likely used on guitars in alternative tunings. On acoustic guitar he chose 13-56 JK13 phosphor bronze strings.
Amp
The Vox AC30 was used by The Beatles, The Kinks, The Rolling Stones, and so many more bands because it was known for its top boost. This made it louder with added vibrance and "brilliance". If you must use another style of amp you are looking for a clean rock sound with lots of boost and gain, but without any grit or mud. 
When you are using a delay or echo in a song it can quickly get ruined by too many overtones bouncing back and forth. We only want our clean notes to run through the rest of the pedals.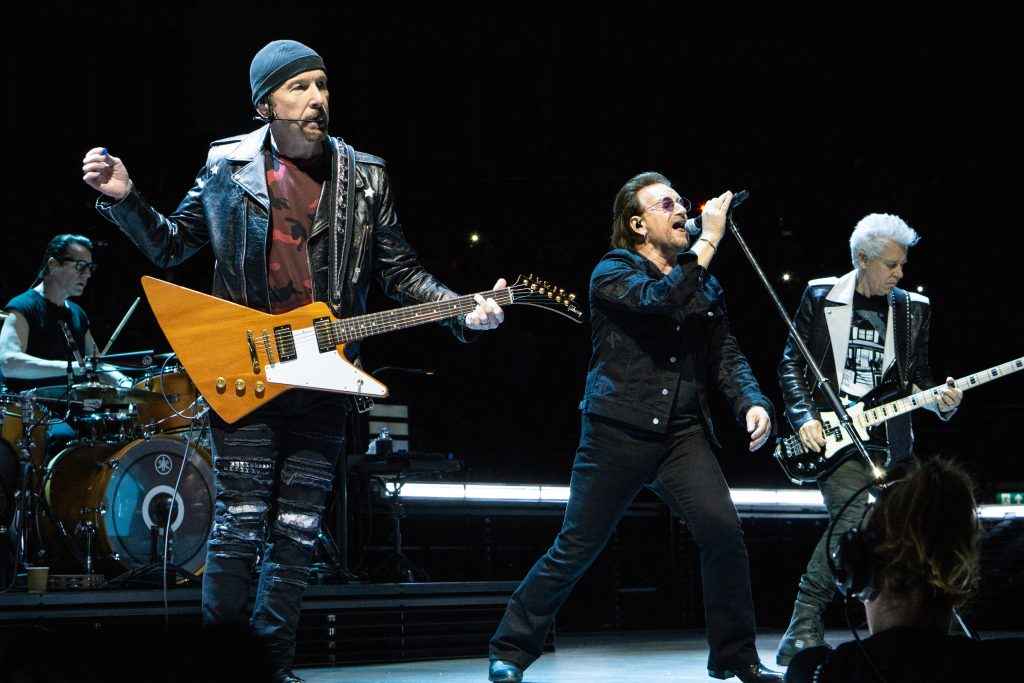 Compression and Overdrive
Because he is going for such a loud and sustained guitar sound it is essential to have some compression and boost of the signal. When used right, compression is not always that noticeable, the key is to thicken the notes and help them play a little longer. An electric guitar doesn't have a sound space for the waves to vibrate so compression can help make the signal sound bigger.
Overdrive is a common pedal used to help make the sound of the guitar louder by clipping the signal. In "I Will Follow," The Edge uses a compression sustainer and super overdrive before the Memory Man delay pedal. However be sure not to overdo the compression and especially the overdrive. We want to make the sound loud and thick, but again no dirty overtones to muddy our final tone!
Delays
The Edge prefers analog delays and almost always sets his delays to dotted eighth notes. If you listen to most U2 songs you will recognise that common note delay. Sometimes he would use more than just the Memory Man, in "Pride (In the Name of Love)" he adds on an Electro-Harmonix Canyon and MXR Carbon Copy. Use at least two delays to bounce off each other if you want a really big tone.
He also used two delay pedals in "I Still Haven't Found" and nothing but that in "Where the Streets Have No Name." The compression and overdrive are essential, but his sound is created in the echoing of the notes. That is another reason he takes a minimalist approach to guitar, if you play too much into a delay it may soon start to sound trippy and experimental, especially if using two delays! For arena like pop rock we want expansive and vast, not strange.
Reverb
And of course along with delay he adds more space with reverb pedals on occasion like in the song "Twilight." If you find you cannot get the right space and vibe with just the delays you can try to thicken it up with some room reverb. The key with the pedals is to get a very huge and ambient sound by using as much delay and reverb as necessary to build the musical space.
Even when The Edge uses a whammy pedal in "Even Better Than the Real Thing" he still incorporates standard delays and a compression sustainer. Any added pedals dialled in right will still give you that vast sound if you have the echo and play the right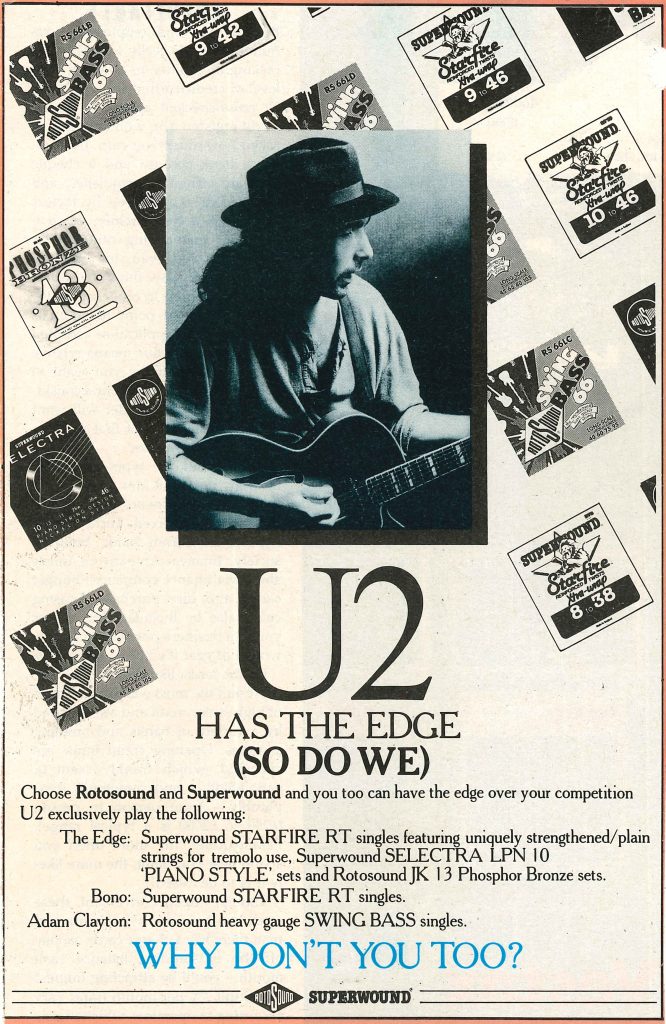 A Little Music Theory to Play Like The Edge
Of course the pedals are a very important part to the sound of U2, but it is also the simple yet specific note intervals that The Edge plays. He is a fan of the 1st and 5th scale degrees, which are perfect and pleasant sounding to the ears. You can always use a scale finder to help you with this. One reason U2 is so popular is that they play the common notes that people like to hear.
Some fusion artists and virtuoso guitar players may look down on such a style, but popular music is well liked for a good reason. When playing guitar like The Edge stick to simple intervals, drones, and arpeggios. By only playing the specific notes of each chord we won't have any harsh mixing in the delays. In fact if you try to get too fancy in your playing, you will lose the volume and unique style.
While the expense of the pedals is one drawback, the easy guitar playing is great for beginners. Get a compression sustainer, overdrive pedal, and a couple delay pedals and experiment with different settings until you hear that volume and space created. From there keep your playing simple and melodic, letting the echo's bounce off one another and you will find your guitar will sound like U2's The Edge!