We gave the bus a groovy makeover with the Rotosound and 12 Guitars logos
We thought that it was high time that Glasgow has its own Guitar Show! So, instead of complaining, we did something about it!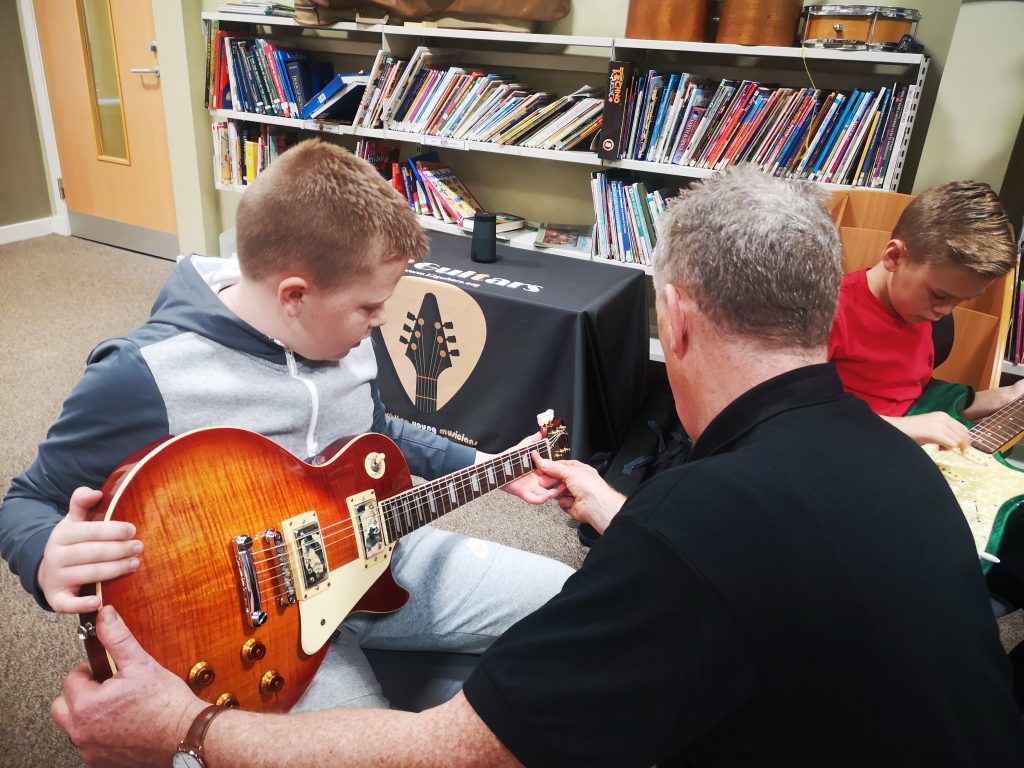 Say hello to 12 Guitars
12 Guitars is a social enterprise formed in 2019 with the goal of making guitar playing accessible to everyone in the community.
The aim is to find people from different backgrounds and locations and to get a guitar into their hands and get them playing as soon as possible. If they need tuition, we will provide this to get them started.
The core team consists of founders Gerry Thorogood and Steve Plummer, team members Stephen Dunn, Ron McLeod and Liam Brown as well as guitar Technician Ken Morton and Apprentice Guitar Technician Ross Neil Reid. Ken specialises in taking old, broken, unloved and unplayed guitars and bringing them back to life so they play really well for someone new to cherish and make music on them again.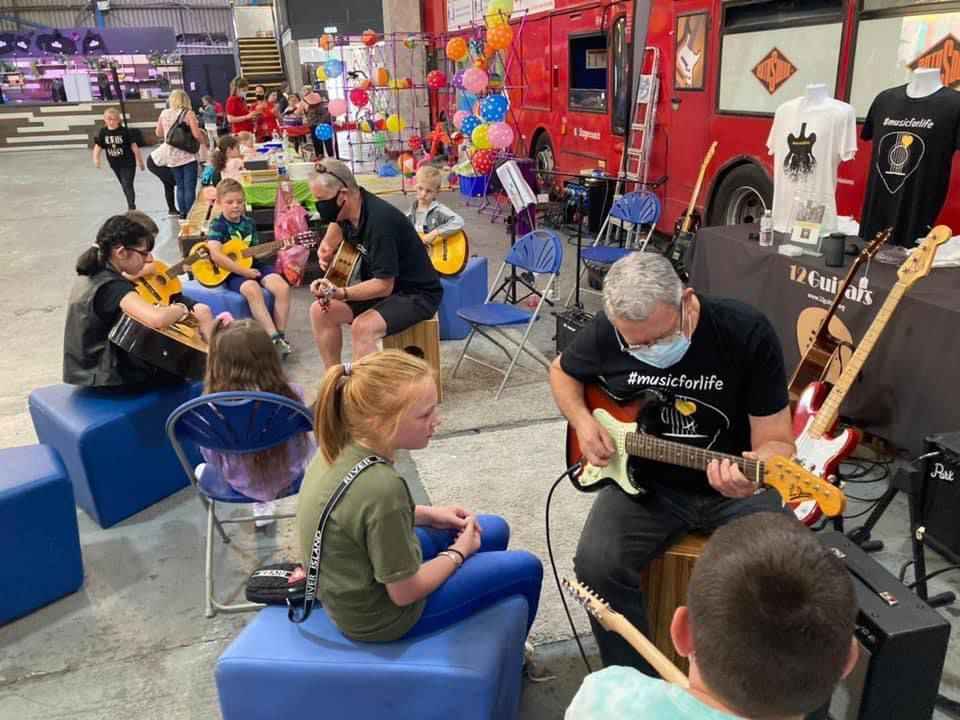 Somewhat appropriately, we are based at Harmony Row in Glasgow, which was the inspiration for the third studio album by legendary Scottish musician Jack Bruce; one of our favourite players. We love being part of Govan; it's a thriving hub for music, musicians, and music fans in Glasgow.
Although based in Glasgow, we cover different locations in Scotland and even a few that are further afield too
We were originally based in the Glasgow Caring City Warehouse, close to the BBC, and had converted a double-decker London bus into a practice and recording studio, learning space, meeting place and guitar tech workshop. Around this time we started working with Rotosound, who provided strings for our guitars, so we gave the bus a groovy makeover with the Rotosound and 12 Guitars logos.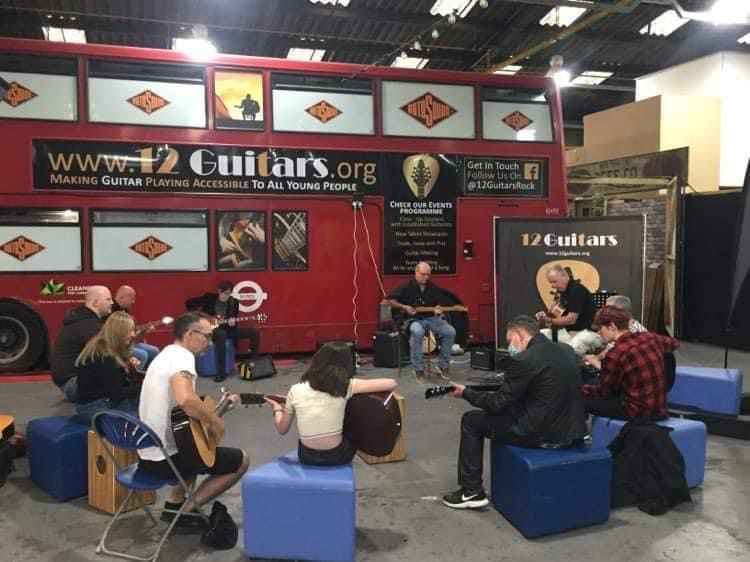 What has been achieved?
One of our earliest campaigns in 2019 focused on giving away 12 guitars to 12 individuals or organisations in Scotland and beyond. Some were brand new guitars and some were guitars that we repaired, refurbished or improved by Ken. All guitars were strung with a new set of strings courtesy of our sponsor Rotosound.
In March 2021, we partnered with the Teenage Cancer Trust to assist in their music therapy activities. They already had three acoustic guitars in their ward but none were playable, with broken and rusty strings and needing some work. 12 Guitars serviced and restrung these guitars with strings from our partner: Rotosound strings. They are now back in the ward ready to play again. This was then followed up with the 12 Guitars donation of high-quality electric guitars (received from the Music for All UK charity) together with suitable amplifiers and equipment.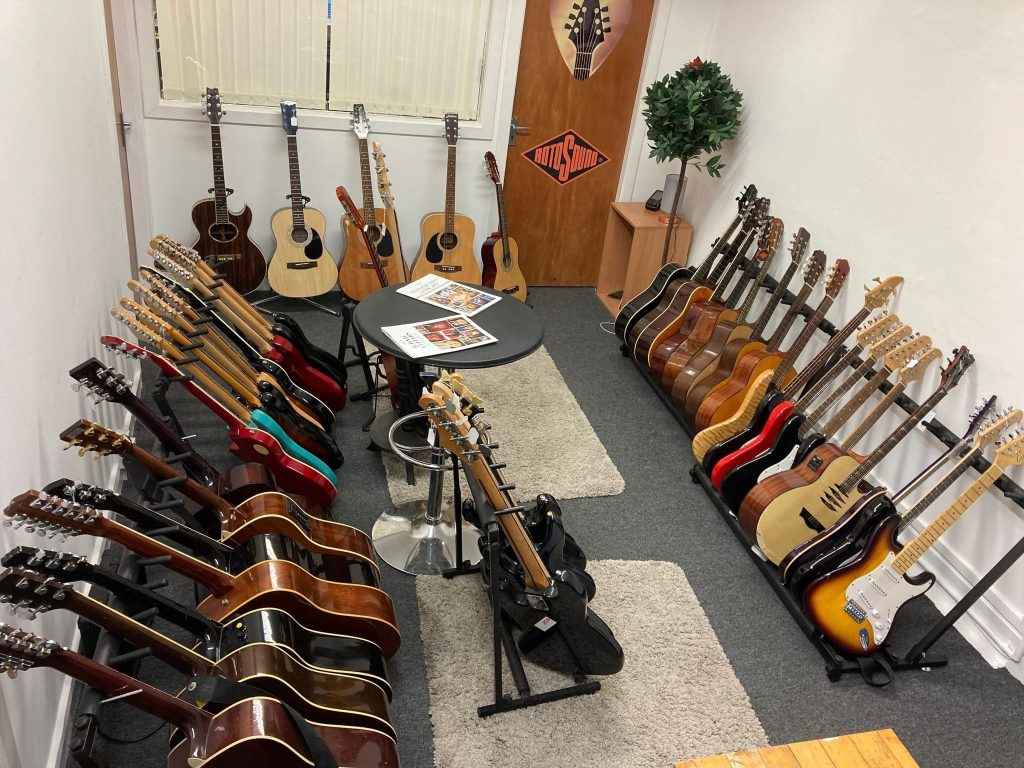 One interesting project led to what we have called The Scrapocaster – to save a wealth of instruments from going straight in the landfill, we established a Landfill Rescue programme with industry, creating playable guitars from scrap. Teaming up with WEEE Solutions, who kindly collect discarded guitars they find as part of their waste re-cycling programme with local authorities, which means that we help save more guitars from going to the scrap heap, bringing them back to life for others to enjoy for years to come.
WEEE Solutions very kindly pass them to us. An example is this Squier Stratocaster – nicknamed, The Scrapocaster. We filmed the guitar's journey in this video:
The Glasgow Guitar Show
Last year we set our sights high and ran a guitar show in Glasgow once again.
We thought that it was high time that Glasgow has its own Guitar Show! So, instead of complaining, we did something about it and partnering with Kenny's Music to host our first Glasgow Guitar Show.
Alex Marten, managing director at Kenny's Music, exclaimed how the shop was "delighted to be part of the inaugural Glasgow Guitar Show. As a city with music in its bones, Glasgow has been crying out for an event like this, and all of us at Kenny's Music couldn't be more pleased to be able to give back to the musical community that has supported us."
Major MI manufacturers exhibited at the show and we hosted masterclasses from Chris Buck, Chris Glen, Dave Arcari, and Carol Laula as well as educational talks. Ken even gave a presentation on the story of our Scrapocaster!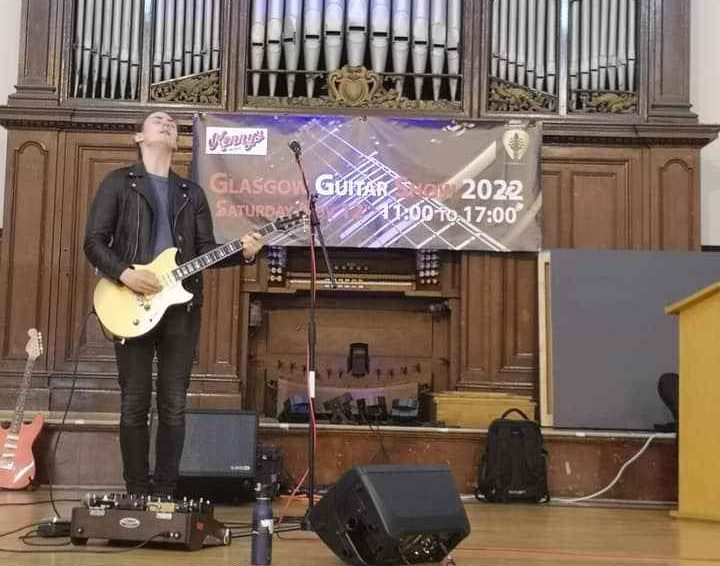 A bright future
Over 2022 we were busy preparing the content for our new Online Learning Platform 12 Guitars JustPlay. Subscriptions to this platform help enable us to make guitar playing accessible to everyone in the community. The platform is now live so we're looking to offer this to more students.
JustPlay has been created by our Tuition Team to give you everything you need to learn to play guitar and then continue to build your playing level. Each pre-made video lesson has supporting material and an explanation to make it easy to follow. You can also communicate directly with your tutor through the platform and share videos of you playing what you've learned enabling your progress to be monitored and tasks and priorities to be set.
We're also embarking on expanding our geographic reach within the community to cover all of Scotland. This will allow us to deliver more guitar sessions and events in the community for disadvantaged adults and expand our programme of structured guitar tuition for schools and youth groups.
Keep your eyes peeled for news of The Glasgow Guitar Show 2023 and visit our website to shop for instruments that help fund all of our causes.